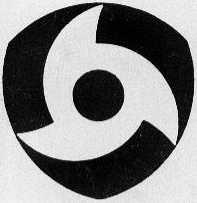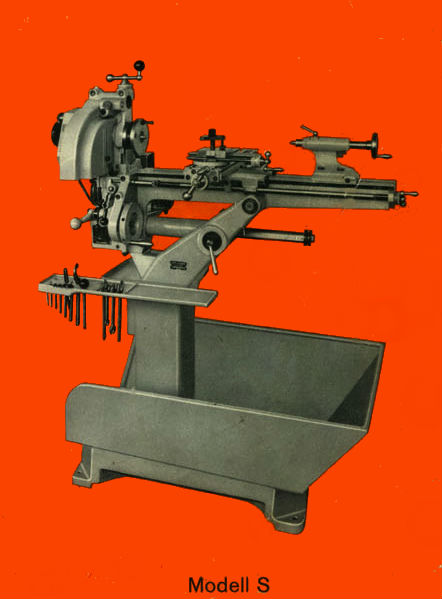 Manufactured for over half a century and formally known as the Astoba UW1, the Swiss made Meyer and Burger (later Richard) UW1 multi-purpose machine tool is based upon a lathe that can be swiveled into the vertical plane. The machine was available in two versions the model K and model S the principle difference being the length of the bed and the mounting of the machine. The model K admitted 420mm between centres while the model S admitted 610mm.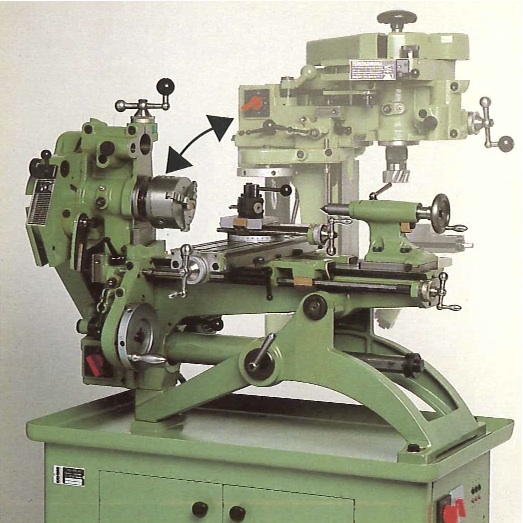 This ingenious machine can be transformed from a straightforward centre lathe into a horizontal boring machine, drilling machine, milling machine, slotting machine etc with relative ease. The movement of the machine from the horizontal to the vertical position was assisted by a large coil spring encased in the tube visible under the machine. The apron feedscrew nut was permanently engaged and to avoid laborious cranking of the feedscrew a handwheel (visible below the headstock) geared to the feedscrew provided rapid traverse as with a conventional rack and pinion apron drive. Power feed to the leadscrew with automatic knock-out stops was provided as standard with power cross-feed available as an optional accessory.
The headstock spindle ran in self adjusting taper roller bearings and could be ran at speeds between 75 to 4000 rpm. The spindle accepted the somewhat strange P type 22mm collets (a little similar to R8) which employ an internal thread and draw bar rather than tube. The headstock was displacable in the vertical plane by some 100mm (110-210mm) which provides the X axis when in the vertical position. The tailstock centre height is fixed at 110mm (a raising block was available to raise it to 210mm) and had a 1MT socket with 2MT on request.
The lathe was easily transformed not only into milling machine but also into a horizontal borer, facing lathe and high speed drilling machine. Other accessories further enhanced the machine's capabilities permitting just about any type of work to be tackled including cylindrical and surface grinding.
| | |
| --- | --- |
|   | The slotting attachment for the UW1 is particularly noteworthy. Instead of employing a separate slotting "head" driven by the spindle and having its reciprocating motion contained within itself, the UW1 slotting attachment actually oscillates the entire vertical-slide/headstock assembly complete with drive motor. The slotting tool is held in the horizontal overarm bracket. This video was very kindly provided by William Brem. |
| Another of William Brem's videos showing the very rare power hacksaw attachment. |   |
|   |  Another of William Brem's videos showing the ease of moving the machine from vertical to horizontal |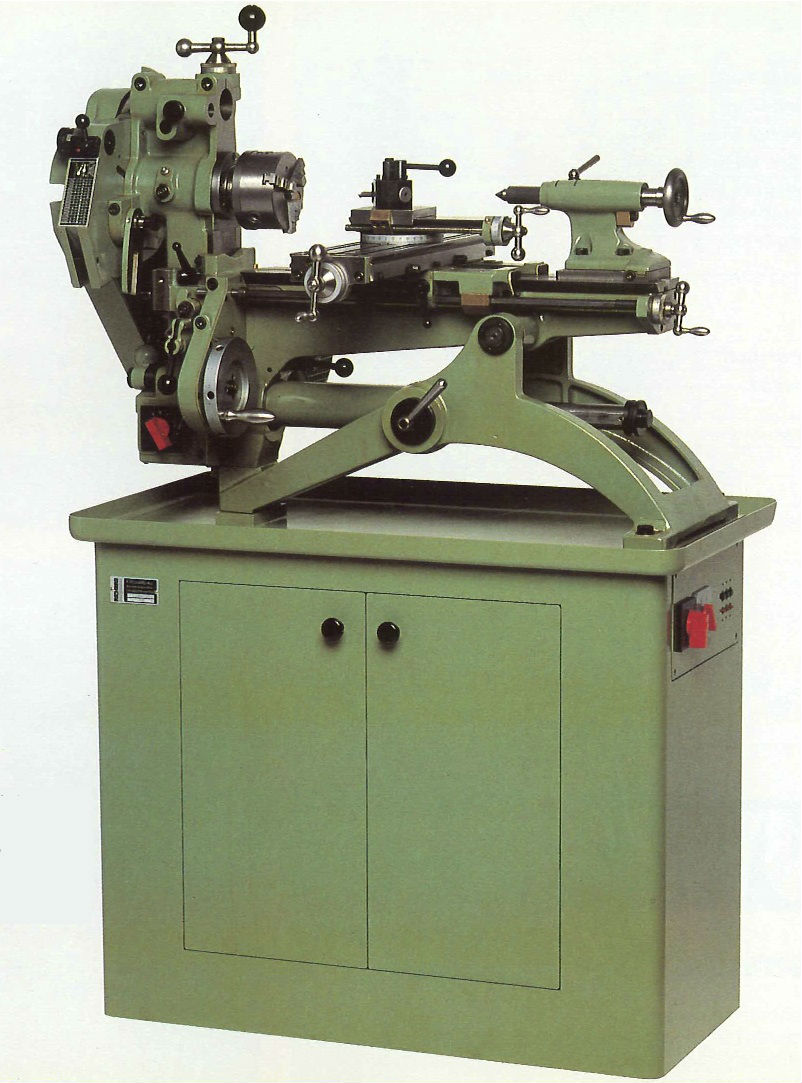 Occupying just 1350X960 (K) or 1600X950 (S) and weighing around 300kg this is the ideal machine if you only have a very small workshop or live on a submarine!
Today Meyer and Burger manufacture machines for the production of semi-conductor wafers: http://www.meyerburger.ch/en