Established in 1937, Habegger are probably better known for their automatic machines, however, they also produced a range of lathes that directly competed with those from Schaublin.
The JH102 lathes were practically identical to the Schaublin 102 employing W20 and W25 spindles and beds of identical design and dimensions. Like the earlier Schaublin 102s the JH102 also employed a 2 degree socket in the tailstock, however later machines had 1 and 2 MT tailstocks. Later, Habegger also offered the JH102 with a 5C collet spindle.
Habegger also produced a 70mm centre height lathe to compete directly with the Schaublin 70, however, as the Schaublin 70 bed clamping method was patented, the JH70 employed a scaled down JH102 trapezoidal type bed, otherwise it was practically identical. One significant difference to Schaublin machines was the use of a V-belt drive system. The JH102 was offered as either a bench or cabinet mounted machine while the JH70 was only available as a bench mounted lathe.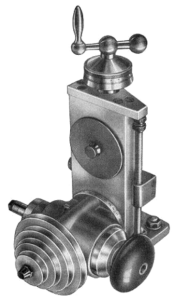 Habegger produced a similar range of accessories to Schaublin. Indeed, all accessories from the Schaublin 102 lathe will fit the Habegger machine including tailstocks. While both Schaublin and Habegger used a round belt-drive system to drive carriage mounted spindles, Habegger offered a wider range of drive solutions including one where the motor was mounted above the machine. While mounting a relatively heavy motor at height required a stiffer vertical element, no doubt Habegger reasoned that only a single pair of jockey pulleys were required and the drive belt was almost half the length.
In addition to the tool-room machines Habegger also offered production machines with F-type dead-length collets, cut-off slides and turret tailstocks.
While the plain lathes were almost identical to Schaublin products, Habegger's screwcutting lathes were entirely of their own design. Two basic models were offered TDL and DLZ. On TDL models a single leadscrew with longitudinal keyway provided feeds via the keyway (powering the apron handwheel) and screwcutting using a halfnut. DLZ models had a more sophisticated gearbox providing feeds via a separate shaft with the leadscrew reserved for screwcutting. The TDL machines were available in bench or cabinet mounted forms and accepted W20 collets in the headstock. DLZ models were available as cabinet mounted machines only and could be ordered with either W20 or W25 headstocks.