Anglo-Swiss Tools is privileged to offer the superb Maprox precision keyless chucks. Produced with the highest quality materials and workmanship in Switzerland, these classic watchmaker's bezel chucks are ideal for precise work requiring low clamping forces. They are particularly suited to clock making / restoration and watchmaking and also for measuring machines.
Maprox GmbH took over the chuck and clamping division of Zweifel GMBH who originally developed the JF-chuck line (also sold under the brand names of Reishauer and BANI) to meet the needs of watchmakers. The legacy of this tradition lives on in Maprox's current line of products. Now, as then, these chucks are an invaluable accessory for jewelers, watchmakers, clock restorers and other precision engineers. We can supply with 3, 6 or 8 jaws from ø55mm to ø150mm with arbors to fit precision machines such as Vector, Levin, Aciera, Schaublin, Sixis, Horia-Steiner, Bergeon, Boley, etc.
Chucks can be fitted with various sets of reversible jaws making them incredibly versatile. Soft jaws may be refinished in accordance with the respective requirements achieving maximum concentricity. In addition, for every 3, 6, and 8-jaw chuck type JF, we can supply hardened, ground and reversible top jaws.
We can also supply Maprox ZF chucks with conventional hardened and ground jaws (3 or 6), for flange mount or complete with safety locking ring, for direct mounting to Schaublin W12, W20 and W25 threaded spindle noses.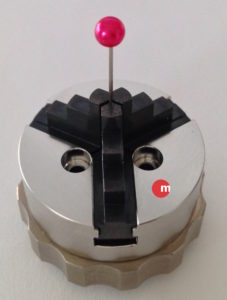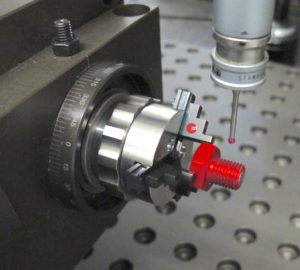 New for 2017 is the amazing Maprox Mini-Chuck. At just 33mm this is the smallest chuck ever produced by Maprox. The Mini-Chuck features an anti-magnetic stainless steel body and hardened steel jaws (two sets of jaws supplied). It has a through diameter of 8mm, can clamp work from 0.6mm to 14mm diameter and has a maximum rotational speed of 3000rpm. With a host of applications including CCM and other metrology operations, its anti-corrosive properties make it ideal for edm wire erosion processes. A 4-jaw version is also available. The video below shows a TIR test with the Mini-Chuck mounted on a Schaublin 102 lathe. As with other Maprox chucks a range of mounting arbors are available.
In addition to chucks, Maprox also make a range of workholding fixtures and indexing devices. The latter will be of particular interests to the horologist and micro-mechanic since these offer a precise, simple and economical way of indexing when a dedicated dividing head is not available or is too bulky for the job in hand – the W20 direct and indirect indexing devices are based on a 50mm cube.
Please contact me for more information and prices.
six-jaw chucks, six jaw chuck, 6 jaw chuck, 6-jaw chucks, bezel chuck, watchmakers chuck, cmm chuck